The Importance of Packaging In Determining Quality and Price​
In our efforts to get a deep understanding of the fresh produce value chain, and how we can optimise it with our innovation, we engage with buyers just as much as we engage with farmers. And as much as farmers share the experiences and challenges they face with markets, we have also gained many important insights about what buyers are looking for and what matters to them.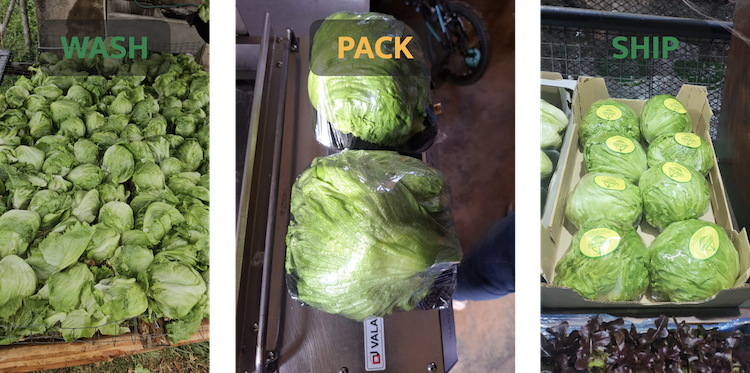 One of the biggest challenges raised by buyers is the reluctance of farmers to package their produce correctly, if at all. And yet, in the eyes of the buyer, the packaging is just as important a determinant of quality as the actual produce itself. Correct packaging also has a significant impact on the price a farmer can get for their product. Our key insight here is that, to the buyer, PRODUCE + PACKAGING = PRODUCT. And it is important to note that both the produce and the packaging have a bearing in how a buyer perceives the QUALITY of the product, and therefore the price he is willing to offer. This means that a correctly packaged product is a BETTER QUALITY PRODUCT!
It is not just a question of packaging your produce anyhow, but packaging it correctly. One buyer put it this way, "In a supermarket, would you buy bread if it was packaged in an ice-cream tub?" Some farmers package cucumbers in tomato boxes, some package peppers in lettuce boxes. This negatively impacts the price they can obtain at the market. The key is to learn the specific packaging requirements of each product for your specific markets. To show how important packaging really is, another buyer indicated that 2nd grade produce correctly packaged will likely receive a better price than 1st grade produce incorrectly packaged. The reason for this is that incorrect packaging gives the buyer more work to do to re-package correctly.
One of the most common reasons given by farmers for avoiding packaging is that it adds to their cost. The irony here is that marginal increase in cost (i.e., The cost of packaging) results in a disproportionate increase in the price offered by the market. Let us look at lettuce as an example. Today, a loose (unpackaged) head of lettuce is going for about R8 at the fresh produce markets. The packaging for lettuce (consisting of a number 14 punnet and cling wrap and packaged in a box of 8 heads) means an additional cost of R1 per head, and yet results in a price of around R16 a head - double the price of a loose head!
It's clear from this brief outline that farmers would do well to consider packaging when they deliver their product to market. Understand the correct packaging requirements of your specific markets for your specific produce and realise that this significantly increases the buyer's perception of quality which increases the price a farmer can obtain.
Are you a farmer wanting to learn more about packaging and enhancing your on-farm grading capabilities? Sign up now and get listing.
Are you a buyer looking to communicate your packaging requirements with suppliers? Sign up now to list your procurement quality requirements and provide your suppliers with grading feedback.
You can also check out our how to guides to learn more about using our platform.